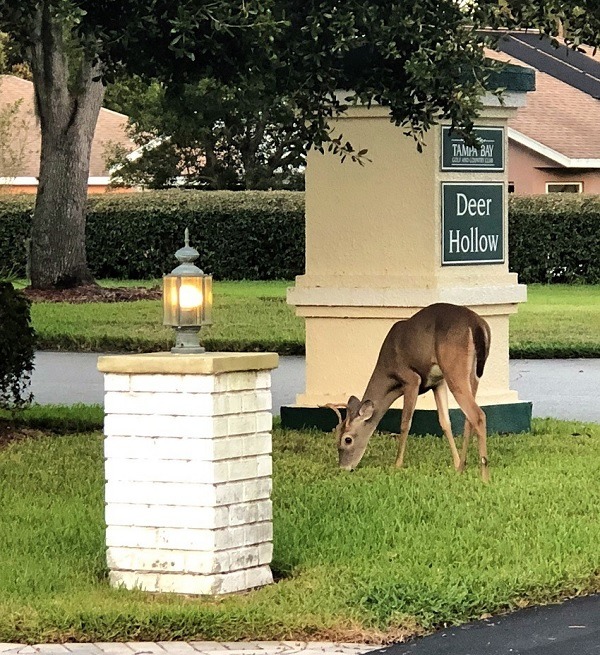 We're pleased you are here.  To learn more about Deer Hollow and Tampa Bay Golf & Country Club schedule a visit with our Welcome Committee.  Call Carrol Smith at 352-668-4399.



Where Do I Get Information?
Your Deer Hollow HOA Board has a website (deerhollowhoa.com) that contains important and useful materials such as important numbers, social events, covenants and restrictions, budgets, committees and charters, architectural changes, an emergency contact form, events calendar, meeting minutes and other information.
Stop at the Tampa Bay Golf & Country Club (TBGCC) Clubhouse reception desk or telephone 352-588-0059 to make an appointment for the following:  log-in access to the TBGCC Master Board website; sign up for informational email blasts and obtain your vehicle entry barcode or other access devices
Attend meetings of your Deer Hollow HOA, and the TBGCC Master Board. Watch for notification by postings at the front & back gates, at the bulletin boards, stands near Deer Hollow mailboxes and at Deer Hollow street entrances. Emails are also sent to announce meetings so be sure to share your email address with the Deer Hollow HOA Board and the TBGCC Master Board.
TIDBITS is our outstanding monthly publication highlighting current news, past and future events – everything you need to know about the TBGCC experience. TIDBITS is available on line (tbgcc tidbits), and it is available at the Clubhouse reception desk on the first of each month.
Trash pick up is individually contracted with Waste Connections. It is not provided by the DH HOA -- phone 352-583-4204.
Your can get a Mailbox Key from the U.S. Post Office, 12231 Main Street, San Antonio, FL for a small fee.
If you want to join NEXTDOOR, type nextdoor neighborhood website in your browser.
If you want to join the TBGCC Facebook Neighborhood, type https://www.facebook.com/groups/1617672171893596/?ref=br tf in your browser.